Today's Smalltalk 4 You looks at the EmSystemConfiguration class (instance accessible via the System variable) in VA Smalltalk. If you have trouble viewing it here in the browser, you can also navigate directly to YouTube. To watch now, click on the image below: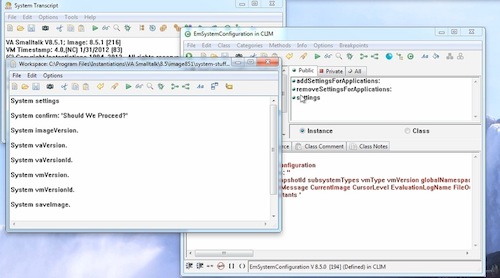 .
If you have trouble viewing that directly, you can click here to download the video directly. If you need the video in a Windows Media format, then download that here.
You can also watch it on YouTube:
---
Today we'll have a look at the instance of EmSystemConfiguration that gives you access to a number of basic APISs - System. If you browse the class, you can get a deeper idea than what we'll touch on here. Here's a list of some of the more useful things available:


System settings	

System confirm: 'Should We Proceed?'

System imageVersion.

System vaVersion.

System vaVersionId.

System vmVersion.

System vmVersionId.

System saveImage.

System exit.



You can get the settings (from your default ini file), the version of the product you're running (useful if you need to support multiple versions of VA), pop up a simple confirmation dialog - and save or exit the image
Need more help? There's a screencast for other topics like this which you may want to watch. Questions? Try the "Chat with James" Google gadget over in the sidebar.
Tags: smalltalk, va smalltalk
Enclosures:
[st4u363-iPhone.m4v ( Size: 1354557 )]