Today's Smalltalk 4 You looks at the configurability of the new coding assistance feature of VA Smalltalk 8.5 (which was ,a href="blogView?entry=3494234789">covered in another screencast). If you have trouble viewing it here in the browser, you can also navigate directly to YouTube. To watch now, click on the image below: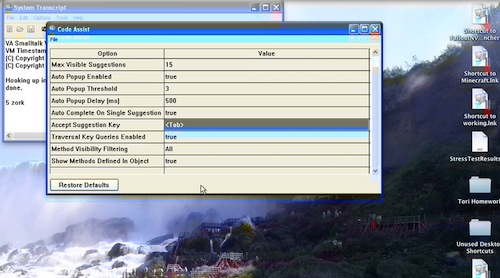 .
If you have trouble viewing that directly, you can click here to download the video directly. If you need the video in a Windows Media format, then download that here.
You can also watch it on YouTube:
---
Today we'll look at configuring the new Coding Assistance (auto complete) that is part of the new VA Smalltalk 8.5. To get there, go to the Options menu item in the launcher, and select the pull right for Code Assist. Note that you can turn it on and off, or select more granular options, which we'll do now: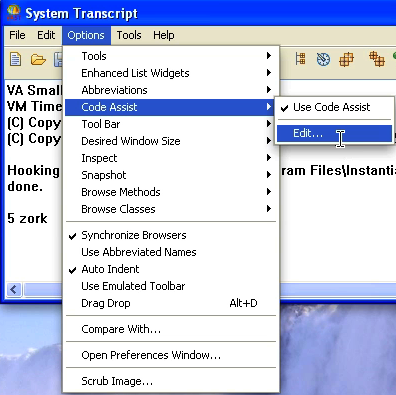 Select the Edit option - you'll get a preferences window: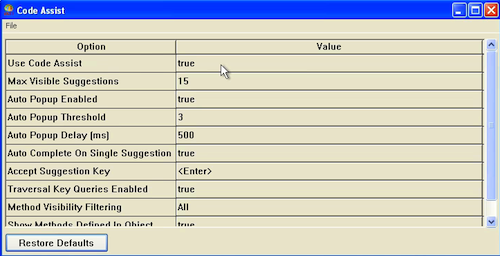 Now you can toggle any of the available settings - for instance, you can change the key for accepting an assist from <Enter> to <Tab>. The changes are immediate, and note that you can simply restore the defaults at any time.
Need more help? There's a screencast for other topics like this which you may want to watch. Questions? Try the "Chat with James" Google gadget over in the sidebar.
Technorati Tags: smalltalk, va smalltalk, code completion
Enclosures:
[st4u138-iPhone.m4v ( Size: 4124413 )]