Today's Smalltalk 4 You looks at how easy it is to get a Pharo based HTTP server (Zinc) installed and running. If you have a Linux box handy, you can be browsing your server in less than a minute. If you have trouble viewing it here in the browser, you can also navigate directly to YouTube.
The command line to get this going is:


curl http://zn.stfx.eu/zn/pharo-server.sh | bash


Small caveat - you may have to install curl first, depending on how you set your Linux environment up.
To watch now, click on the image below: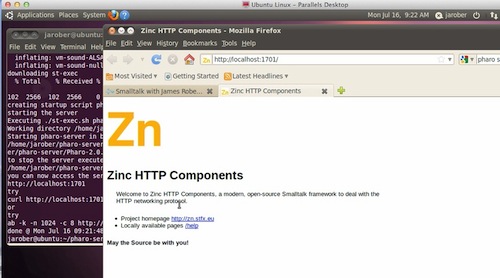 If you have trouble viewing that directly, you can click here to download the video directly. If you need the video in a Windows Media format, then download that here.
You can also watch it on YouTube:
Enclosures:
[st4u258-iPhone.m4v ( Size: 2582155 )]