Instantiations updated us on VA yesterday - today it's Arden's turn with Cincom Smalltalk.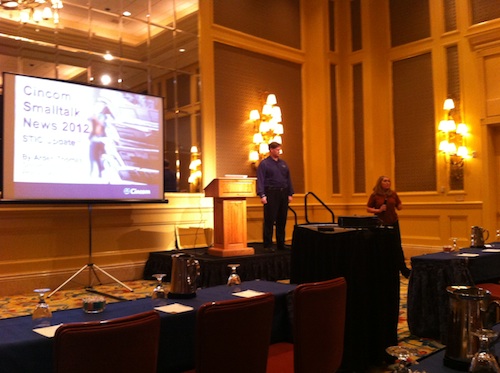 New releases of VW and OS are coming by June of this year - 4 major releases over the last 2 years, plus minor ones. New stuff recently:
Unicode VM
Store revamped (Glorp underpinnings)
Atomic Loading from Store
Updated Delays (uses OS clock)
Improvements to the Mac VM
New Pre-req engine for Store
64 bit support has improved vastly
Store browsers now (finally :) ) using the RB
Merge tools updated
Seaside support is up to date with each release
Coming soon:
External encryption (as documented by Martin)
Speed improvements in Store
Configuration Management
ipv6
ObjectStudio - Arden points out that the modeling and mapping tools are OS specific, but the outputs can be used in VW as well (the GLORP mappings). See this talk and this talk for more on that.
Tools for GLORP - use ObjectStudio, publish the results to Store, use in VW or OS. OS has better integration with the Runtime Pacakager tool as well. One of the main new things on the OS roadmap (other than continued DB modeling/mapping support) is 64 bit support.
New stuff in VW: COM updates, internationalization improvements, better look (icons). What's Notable?
Project Launcher
Polycephaly (supports multiple cores/cpus)
GC improvements (see Andres' talk)
Xtreams
The new work looks like it's moving the stuff listed above forward - but there's also some interesting UI work (Skins) that Travis will be talking about next. Once that's posted, scroll up :) Also on the radar - dllcc improvements, Windows 8 support (metro?), code completion, WebSockets, font improvements. Kind of the summary statement - a lot of the product changes are driven by customer feedback and needs.
Release Cycle: Annual major releases, maintenance releases (actually maintenance :) ) in between.
Technorati Tags: smalltalk, cincom smalltalk