Last talk of the day - memory management in Cincom Smalltalk. There have been changes in this area over the last couple of releases, which is good - I learned a fair bit about the old stuff (caveat: having said that, I only ever scratched the surface), and the new stuff makes it a bit more accessible. Andres Valloud is giving the talk - he's starting with some basic background on memory management in CST (eden, survivor spaces, all of that stuff - I'll refer you to the docs for a broad discussion of that).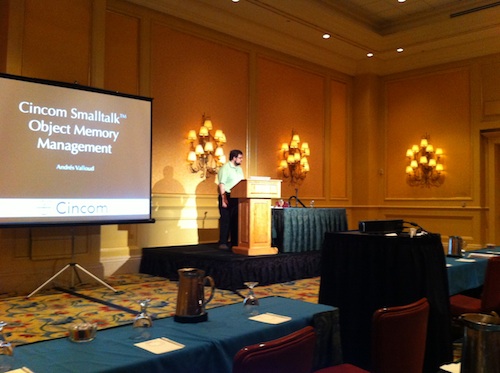 What's been fixed since VW 7.7?
The way IGC (incremental garbage collector) handles aborted state - properly now.
Adjusted the default setting for the Growth Regime Bound (was 32 MB, now more sensible). Having that default led to much thrashing
Also moved the emergency threshold back from the raw upper bound, to allow for actual emergency handling
Changed growth increment default from old (1 MB) to something more reasonable
FixedSpace allocation has been fixed
Improved weak/ephemeron support
IGC improved - including the ability to turn IGC on and off
some protection for stack overflow
new switches for the VM on the command line - so you don't need to adjust the numbers and resave the image
The development team at Cincom has created a test suite for all of this stuff, which has already been a big help. They've added a tuner that will make suggestions for optimization.
Technorati Tags: smalltalk, cincom smalltalk, memory management