Today's Smalltalk 4 You looks at some variations on calling external applications from VA Smalltalk. If you have trouble viewing it here in the browser, you can also navigate directly to YouTube. To watch now, click on the image below: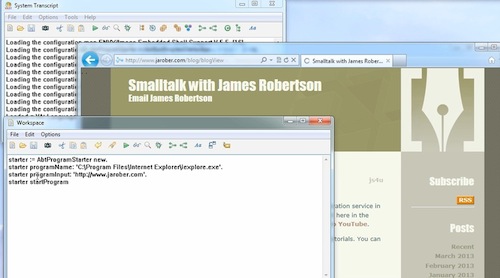 .
If you have trouble viewing that directly, you can click here to download the video directly. If you need the video in a Windows Media format, then download that here.
You can also watch it on YouTube:
---
Today we'll continue looking at starting external applications from within VA Smalltalk. Previously, we've looked at simply starting an external application - today we'll add command line arguments:


starter := AbtProgramStarter new. 
starter programName: 'C:\Program Files\Internet Explorer\iexplore.exe'.
starter programInput: 'http://www.jarober.com'.
starter startProgram


That's all there is to it - just make sure that your argument string is valid for the application in question.
Need more help? There's a screencast for other topics like this which you may want to watch. Questions? Try the "Chat with James" Google gadget over in the sidebar.
Tags: smalltalk, va smalltalk
Enclosures:
[st4u360-iPhone.m4v ( Size: 669142 )]