Today's Smalltalk 4 You looks at the saving and restoring your VA Assist Pro Settings. If you have trouble viewing it here in the browser, you can also navigate directly to YouTube. To watch now, click on the image below: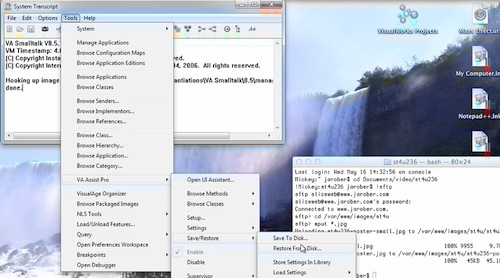 .
If you have trouble viewing that directly, you can click here to download the video directly. If you need the video in a Windows Media format, then download that here.
You can also watch it on YouTube:
---
Last time we looked at the plethora of settings available for VA Assist Pro, all of which can customize your experience with VA Smalltalk. Today we'll look at how you save those settings so that you can restore them in a new image.
To save those settings, pull the menu for VA Assist right through Save/Restore, as shows below: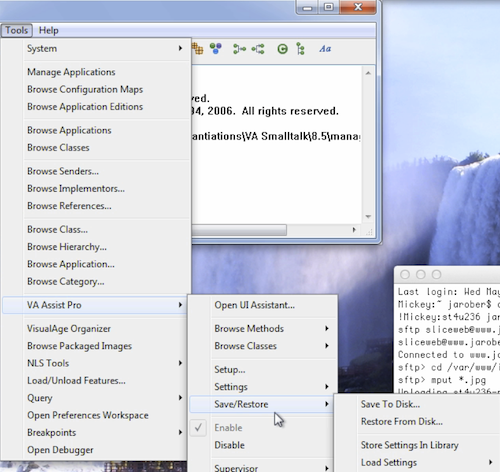 Note that you can save the settings either to flat files or the ENVY repository. Either way works fine, and integrates well with a build process. Follow the same pull rights to restore the settings in a new image: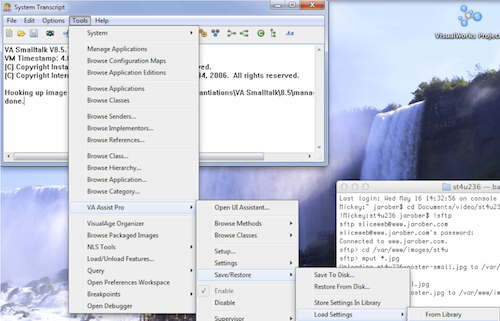 Need more help? There's a screencast for other topics like this which you may want to watch. Questions? Try the "Chat with James" Google gadget over in the sidebar.
Technorati Tags: smalltalk, va smalltalk, va assist
Enclosures:
[st4u237-iPhone.m4v ( Size: 2109564 )]