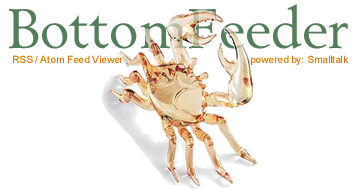 Version 4.7 is available!
BottomFeeder is a news aggregator client (RSS and Atom) written in VisualWorks Smalltalk. BottomFeeder runs on Linux x86, (also FreeBSD), PowerPC Linux, Sparc Linux, Windows (2000/XP/Win 7), Mac OS X, AIX, SGI Irix, HP-UX, and Solaris (SPARC and x86).
What sets BottomFeeder apart?
Full support for CSS, including user defined CSS
View news in 3 pane or 2 pane modes
Subscribe to any RSS or Atom format in use
View items in a summary Newspaper View
Synchronize 2 or more BottomFeeders via HTTP or file import
Subscribe to feeds or feedlists
Supports HTTPS, HTTP Authentication, and HTTP Digest Authentication
Plugins for blogging, IRC, and MSN Messenger contacts
Easy to update or upgrade from within BottomFeeder
Save as many or as few feed items for as long as you want
Import or Export in common OPML format
Binary compatible on every platform. No need to recompile
Source Code
Source code is available in the Cincom Public Repository. Follow that link for instructions and for write access. For read-only access, sign in with username=guest and password=guest.
Contributors
James Robertson - Lead Developer
David Murphy - Lead Developer
Rich Demers - Documentation
Michael Lucas-Smith - WithStyle, NetResources library, Typeless IRC plugin
Holger Kleinsorgen - many fixes
Anthony Lander - many fixes
Bob Westergaard - many fixes
Troy Brumley - many fixes and testing
Denis Johnson - BottomFeeder Logo
Eric Winger - bug fixes and suggestions
Powered by: